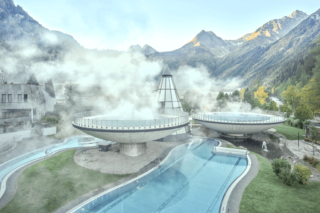 Wellness for all senses in the heart of Tyrol
The AQUA DOME THERMAL BATH
---
Float weightlessly in a brine basin with a view of the majestic three-thousand metre peaks: Dive into one of our 12 inside and outside basins with 34 - 36 °C warm water. Find your inner peace and serenity on the lounge oases. Pause for a moment and feel how the element water inspires your mind.
The ultra-modern thermal resort with the most impressive architecture in the Alps, located in the heart of the Ötztal valley stands out by its futuristic-looking water and sauna world. Whether on a thermal bath holiday, a short visit to Tyrol, relaxation for two  or a solemn moonshine bathe: in the atmosphere of our 4-star superior hotel you can take a deep breath and invigorate your strength. 
open all-year-round
water fun on 2,000 m²
child care
indoor and outdoor area
Thermal bath
12 basins
Spa 3000
7 saunas
Activity programme
E-charging station
Entrance Fee
Days

Adults

Childres

3 - 14 years

Family

2 Adults +

Students & Senior

(from 65 Years)

Day-ticket until 18:00 o'clock

Flexible 3-hour-ticket between 10.00 am - 05.00 pm

3-hour-ticket Morning ticket (9:00 slot only*)

3-hour-ticket (12:00, 15:00, 18:00 slot*)

*Check-In 9:00, 12:00, 15:00, 18:00 o'clock

additional extension**

only with sufficient capacity

(per 1/2 hour or part thereof)

**Information is available on site

Evening ticket

from 6:00 pm

Sauna world

Only in combination with a ticket to the thermal spa

nude zone | no access for people under the age of 15

Relax! one day holiday

Mon - Fri

Sat, Sun, holidays

EUR 88.00

EUR 98.00

Relax! one day holiday deluxe

Mon - Fri

Sat, Sun, holidays

EUR 108.00

EUR 128.00
People with disabilities: 20 % discount. Only valid when presenting a certificate of disability, 50% disability or more. 
Group rates: On request.
Rental fees: Bath robe EUR 9 / Towel EUR 6.
OPENING HOURS & OCCUPANCY
---
Our current opening hours: Monday - Sunday from 09:00 to 22:00.
Thermal bath: Daily from 09.00 am – 10.00 pm (Thermal bath closes at 09.30 pm)
Sauna: Daily from 10.00 am – 10.00 pm (Thermal bath closes at 09.30 pm)
Gym: Open daily from 08.00 am – 10.00 pm
Treatment & SPA: Open daily from 09.00 am – 07.00 pm
Moonlight bathing: Every Friday the thermal bath and the sauna are open from 09.00 am – 10.00 pm
(Thermal bath closes at 09.30 pm)
---
Ticket Shop
Book your visit to the thermal baths easily and conveniently online. Admission is then guaranteed for your desired time and duration of your stay and you can leisurely start your thermal bath experience.
You can check the current occupancy rate online.
Please note: If no availability is shown in the ticket shop calendar, the spa is fully booked for that day and no more tickets can be booked by telephone.
Are you experiencing technical problems with your online booking? Then please contact our thermal baths information desk for assistance on tel.: +43525364006001

AquaDome Thermenshop
Have you already heard about our "AQUA PLAZA" thermal spa shop?
---
Here we offer you a great selection of products which are indispensable for a great spa-day. Everything from swimwear to magazines, books, everyday cosmetics and flip-flops – you will find a wide variety of fabulous products. In addition, you can choose from popular, high-quality "Vossen" terry-towelling items. As you can see, this shop caters for every desire. And on top, you can look forward to our ongoing promotions.
There is something for everyone
We look forward to your visit.
HEALING SPRINGS FROM DEEP UNDERGROUND
---
As far back as the 16th century, the area formerly known as the "Längenfelder Baths" was known for its healing springs. Today, the Aqua Dome uses the rediscovered healing springs for your healthy relaxation.
The precious water bubbles up to the surface in Längenfeld in the Ötztal valley from more than 6000 feet underground and at a temperature of 104° F. According to chemical analyses, the water in Längenfeld that flows from deep inside the earth is a sulfur spring with a divalent sulfur content of 5 mg S–/l. For this reason, it is a legally recognize mineral spring: 3 to 4 liters per second bubble up to the surface, wonderfully warm and pure, right into our thermal baths. Feel the strength of the springs!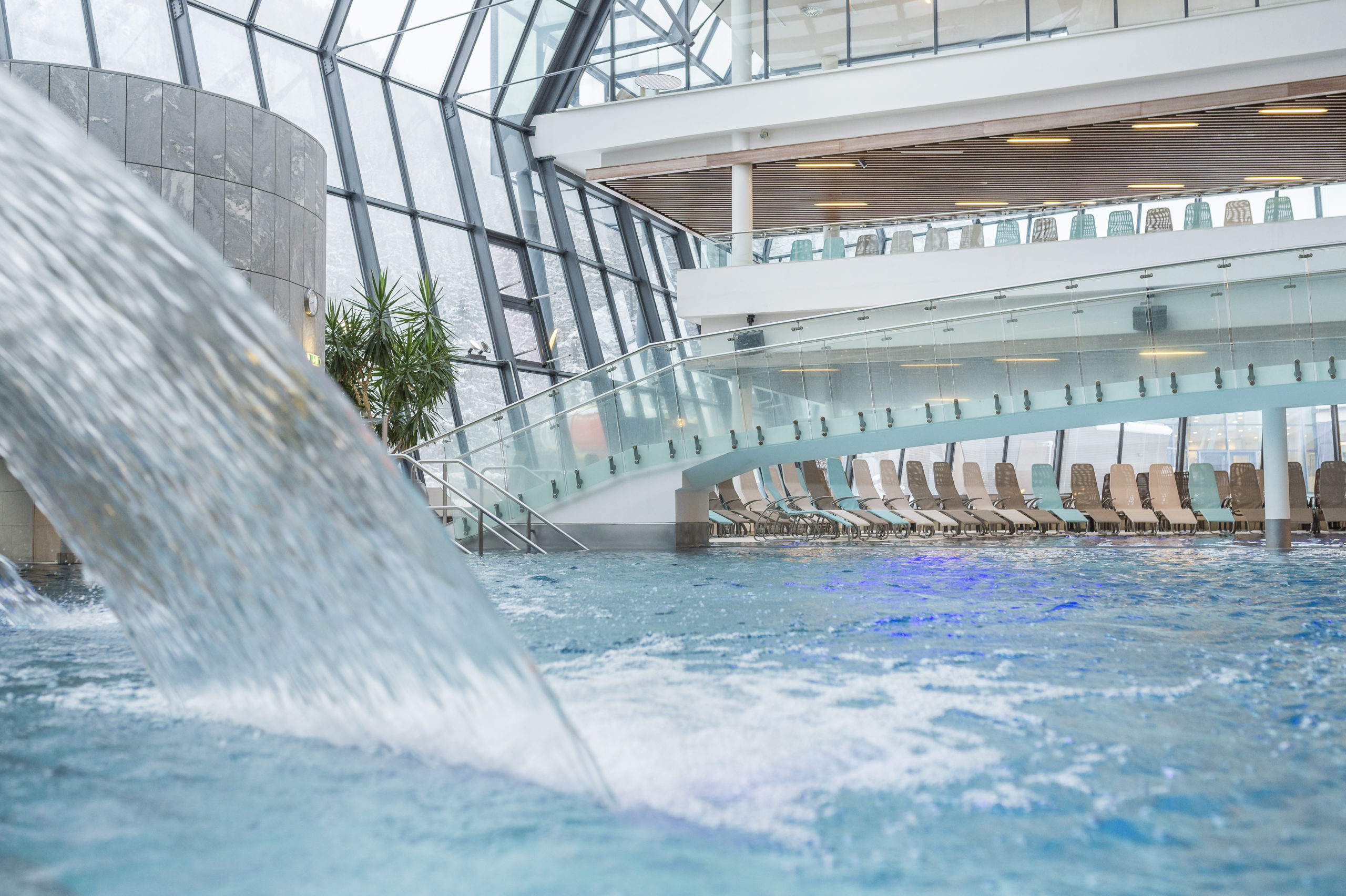 Austria's most beautiful thermal springs
Short holiday with long-term effect in the Ötztal, thermal spa & pure relaxation
---
Choose one of our Relax! offers now and spend your spa holiday in a class of its own with us in the AQUA DOME.
In just a few days you will be completely recovered and ready for new challenges.

Relax! One day holiday
from EUR 88.00 per person

Relax! One day holiday de luxe
from EUR 108.00 per person

Evening ticket deluxe
EUR 68.00 per person
UNDERGROUND CAR PARK
Free use of underground car park at AQUA DOME.
E CHARGING STATION
Charge your electric vehicle at our charging stations in the underground car parking areas at AQUA DOME.
WIFI
Free internet access and WIFI in the thermal area.
Vacation for body and spirit
ONE DAY IN THE THERMAL SPA

09.00 am
Good. Appetite.
---
Start your day of wellness with a healthy breakfast at the extensive buffet. With freshly prepared dishes and delicious fruits and vegetables. Or a sparkling glass of prosecco. To your health!

11.00 am
Immerse. submerge.
---
Our spacious pool area invites you to swim and relax: Immerse yourself in our spectacular pools. Let yourself float away and experience endless relaxation and pure enjoyment. With a view of the mountains. Healthy. Cleansing heat.

01.00 pm
Healthy. Sweating.
---
Indulge your body with a cleansing heat treatment: our numerous heat treatments free your body and spirit, and help you sweat out waste products and poisons.

03.00 pm
Deep. Relaxation.
---
Our wonderfully designed quiet rooms offer pure relaxation between rounds in the sauna and enjoying the pools. In the summer you can enjoy peace and quiet under the wide-open skies as well. Breathe it in deeply.

04.00 pm
Let Go. Release.
---
Whether a hot stone or full-body massage, Our wide range of massage and beauty services offer you exactly the kind or relaxation that is good for you. Relaxing from head to toe. Pamper yourself.

06.00 pm
Appetite. Satisfaction.
---
From healthy to lavish, you can satisfy your appetite however you like in our sauna restaurant. You can quench your thirst at one of our three bars. With fruit cocktails and isotonic drinks, you give your circulation healthy momentum.

09.00 pm
Starry skies. Enjoyment.
---
Your day of wellness hasn't ended yet: You can enjoy the evening hours and be impressed by the stillness of the surrounding mountain environs. The stars seem close enough to touch. Come back again soon!