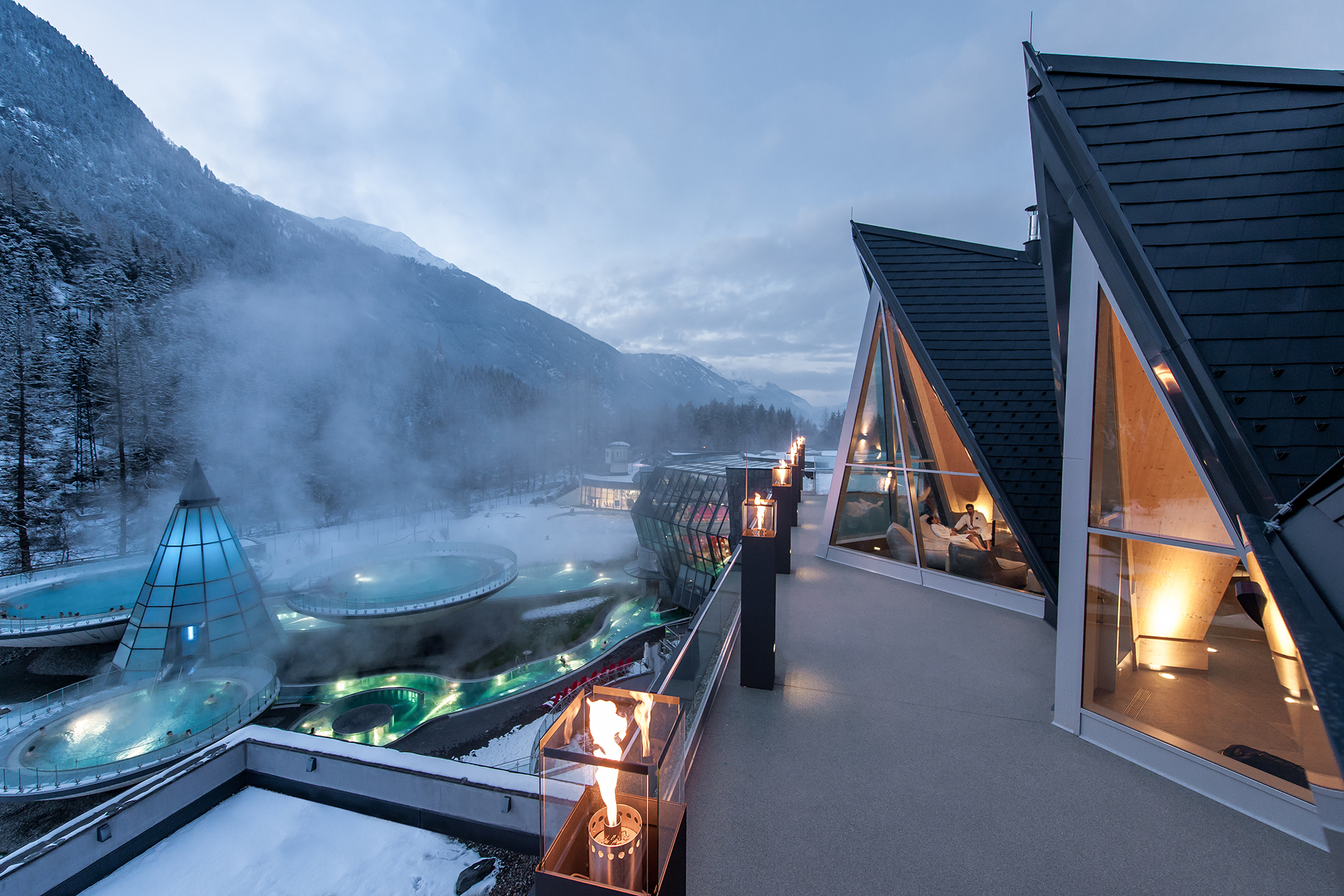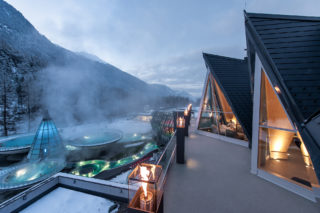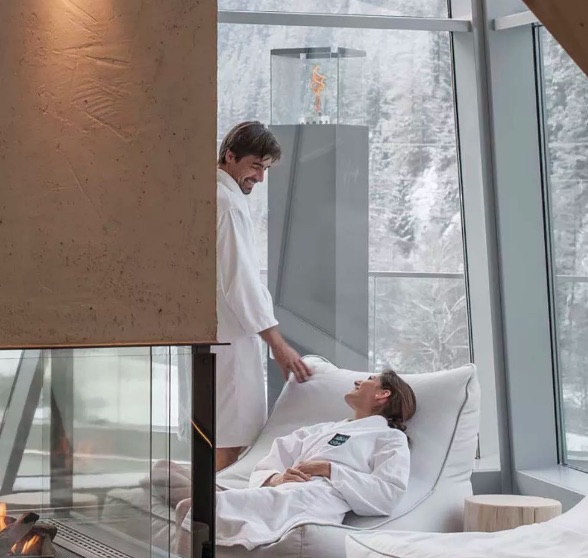 Premium spa exclusive for hotel guests
YOUR SPA 3000 AT THE AQUA DOME
---
Here you can feel the strength of the Alps: Let your gaze wander through the huge panoramic glass panel and enjoy the breath-taking view of the Ötztal mountains. Get an up-close experience of the strength of the Ötztal resources at SPA 3000,  the award-winning premium wellness area only for hotel guests: Fragrant Alpine herbs, invigorating minerals, sparkling gemstones, as well as the flickering flames in an open fireplace, ice and bubbling thermal water are skilfully staged. 
Harmoniously subtle interiors and futuristically designed relaxation areas on two floors embody wellness in a new dimension. The surrounding mountainscape is captured in the design language of SPA3000 - with its spruce, granite and the special layout. Let yourself be carried away in contemplative theme worlds!
LEEWAY FOR LIGHTNESS
At the Moosgumpe pools
IMMERSE YOURSELF
---
Natural moss-covered walls and cosy loungers around the 34°C warm pool - the Moosgumpe is the perfect place to relax after a steaming-hot sauna session. Green, the colour of nature, has a calming, balancing and harmonising effect. The tempting smell of freshly brewed tea lures the relaxation seekers to the herbal-tea veranda.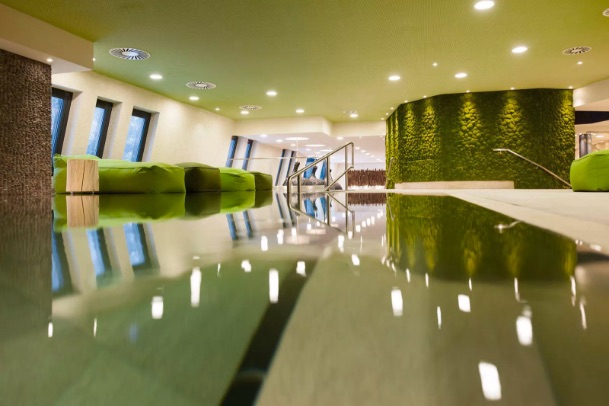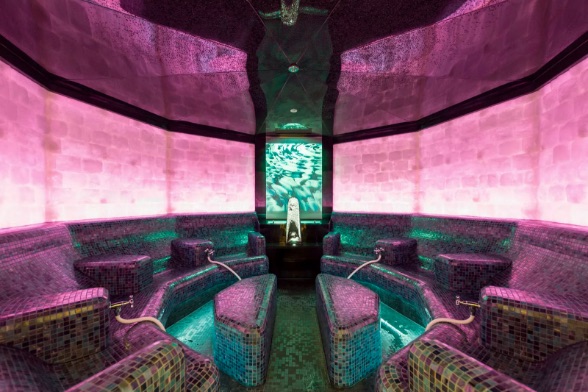 At the Ötztal Mineral Bath
CHILL OUT
---
Enjoy the ceremony with an infusion and peeling: In the mineral bath, minerals and trace elements such as magnesium and selenium have a radiant effect on your skin and soothing salts strengthen your airways while you float. Lean back, take a deep breath and revive your spirit with fresh energy!
At the bar
LEAN BACK AND RELAX
---
Take a seat and marvel: Pause for a moment and enjoy a drink at the elegantly designed bar. In the glow of the crackling flames of the open fire place, you can enjoy the view through the eight-meter high, peak-shaped glass façade and get ready for your next sauna session. Recuperate with fresh snacks and vital drinks!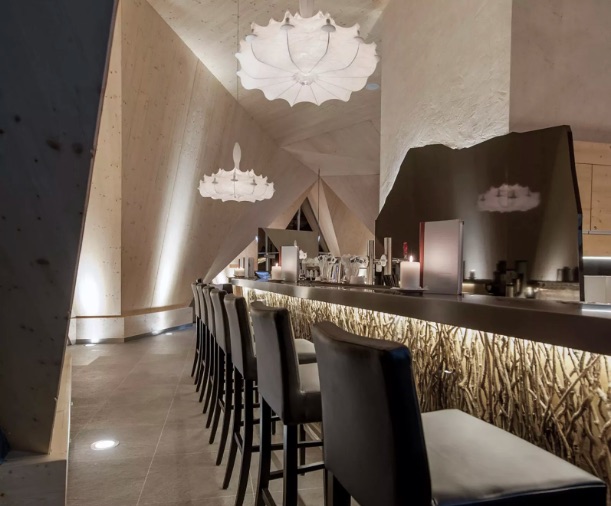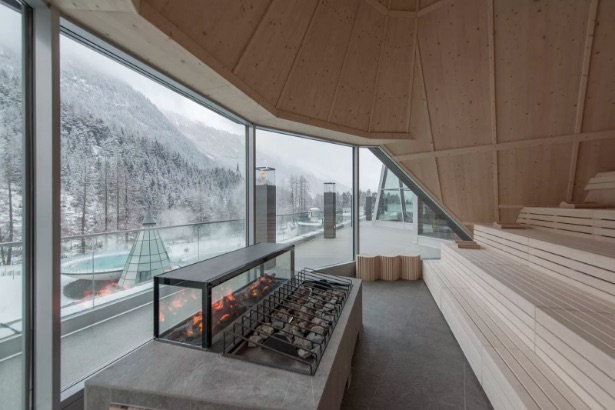 Crackling Mountain Fire
IGNITES THE ATMOSPHERE
---
The perfect composition of natural colours, selected woods and stones lends SPA 3000 its puristic ambience. Impressively staged with a central fireplace and modern glass façade, the crystal-clear view of the surrounding nature has a supernatural effect. On the terrace, you can merge with the mountainscape during the day and watch the fire torches at night.
At the Längenfeld Badl'n
SUBMERGE
---
Immerse yourself: Feel the massage jets in the Längenfeld Badl'n on your skin, relax in 36° warm Ötztal thermal water and enjoy the magic view of the valley. This is pure relaxation for body and soul - and a perfect way to round off a marvellous day at SPA 3000.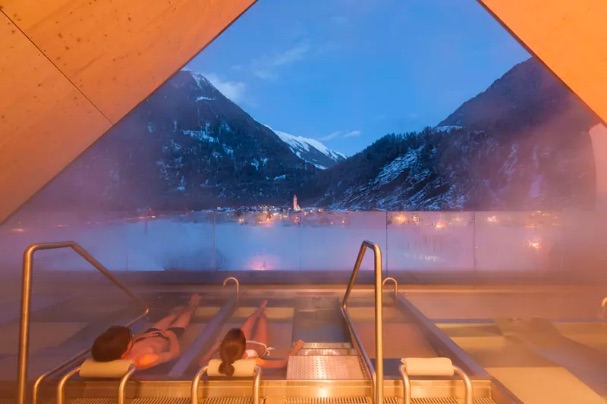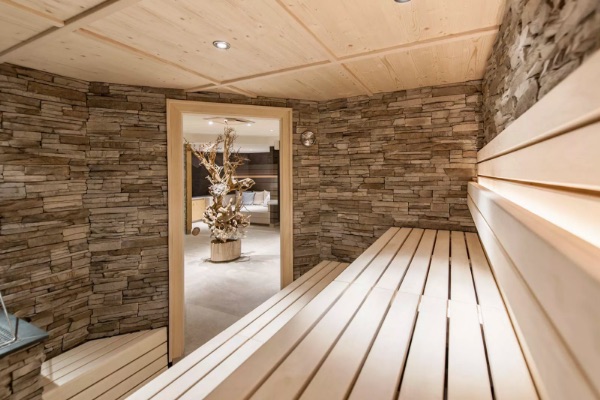 Exclusive hours
PRIVATE SPA SUITE FOR 2 PERSONS
---
Enjoy twosome moments and cherish the memories in the exclusive Private spa suite: The place for unforgettable feel-good moments and infinite relaxation. A Finnish sauna, a luxurious Bovi couples' bath and a massage lounger are available for your private use. Share your dreams in your own relaxation area. Savour your private wellness moment.