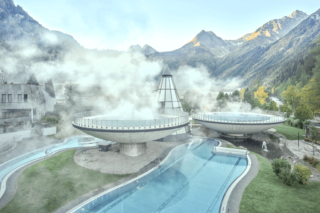 We brighten up for you
We brighten up for you
From 21st August to 20th October 2023.
"Keeping our finger on the pulse" is one of our guiding principles at the AQUA DOME.
That also means always allowing for changes.
Our hotel restaurant has become too small. In the future, every hotel guest should be comfortably seated, which is why an extension is being built on the south side of the hotel.
Beautification work is also being carried out to the interior.
We have requested that the work be carried out as quietly as possible. Nevertheless, noise disturbances may occur between 8:30 am and 6:00 pm.
If you are planning or have already booked your stay with us during the above-mentioned period, please note the following renovation periods.
Planning segments
Info

Entrance hall and reception

- Check in/check out is located in the seminar area

- With the exception of the hotel hall, the entire AQUA DOME hall can be used without restrictions.

08.09.2023 and 09.09.2023

On this weekend the entire AQUA DOME can be used without restrictions.

Renovation/ New Look & Feel

- Parts of the hotel restaurant and bar will be relocated

- Changed routing to the restaurant

- The entire spa resort can be used without restrictions