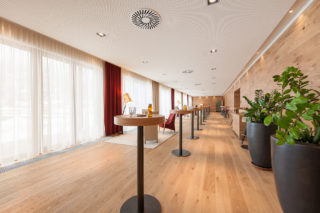 Plenty of space for brainstorming
A WARM WELCOME AT THE SEMINAR HOTEL IN TYROL!
---
The best source for new ideas: The spa resort in the Alps offers a creative
atmosphere for meetings and conferences. A lot of space for mind games. All the meeting rooms of the AQUA DOME are equipped with state-of-the-art audiovisual systems including unique view inmidst of the mountains. Conference members enjoy a combination with the thermal spa for relaxing breaks.
Contact
We would gladly put together an individualized offer for your meetings and conferences. Please contact us:

MEET AND STAY UNDER ONE ROOF
---
The AQUA DOME seminar hotel in the Tyrolean Alps offers you everything under one roof: Spend the night in one of our comfortable rooms and start the next day well-fortified and at our marvelous breakfast buffet and head to your meeting completely refreshed. Your stress-free seminar in Tyrol will be well received.
Live comfortably in 376 square feet with the clean lines and restrained charm offered in the perfect room for rejuvenation before, after and during the seminar. Fresh fruit in the room. Minibar refilled daily with non-alcoholic drinks. Free Internet access/WiFi guarantees uninterrupted communication.
Meeting rooms

Dimensions in meter: L x B x H

Theater

Parliament

Block

U-Form

Bankett

WiFi

Steinweise 2 + 3 + 4

385,66 m2 (29,26 x 13,18 x 3,00)

Karfunkelgeist

109,53 m2 (8,31 x 13,18 x 3,00)

Brillantköpfchen

385,66 m2 (29,26 x 13,18 x 3,00)

Granatschürfe

92,97 m2 (7,05 x 13,18 x 3,00)

Einfallsreich

40,61 m2 (8,18 x 4,96 x 2,80)

Foyer Rubinglanz

191,38 m2 (33,24 x 5,75 x 3,00)

Kristallwissen 8 + 9 + 10

254 m2 (23,50 x 10,72 x 3,49)

Ideenglimmer

85,06 m2 (7,94 x 10,72 x 3,49)

Blitzgneis

80,94 m2 (7,55 x 10,72 x 3,49)

Erzg'scheit

85,87 m2 (8,01 x 10,72 x 3,49)

Schieferschlau

56,15 m2 (8,27 x 6,78 x 3,28)

Granitklug

47,73 m2 (7,04 x 6,78 x 3,26)

Funkenquarz

27,39 m2 (4,04 x 6,78 x 3,25)

Geistesblitz

26,97 m2 (3,97 x 6,78 x 3,25)

Foyer Diamantklar

128,20 m2 (25,73 x 4,98 x 2,80)
FIRST THE WORK, THEN THE ENJOYMENT
Supporting program
---
Get more from your meeting and use the perfect location of the AQUA DOME in the midst of the Ötztal Alps.
Motivate your participants with a exciting supporting program that not only sparks new resources, but also promotes team spirit and creativity. Whether climbing, biking, or in the wellness area of the thermal baths, experience an unforgettable time together. Incentive Tyrol: A memorable conclusion for your meeting.

Seminar Hotel Österreich
CONFERENCE PACKAGES, JUST THE WAY YOU WANT
---
Select your package for your meeting. We are happy to put together a package for you to meet your needs.

ECONOMY
State-of-the-art audiovisual system including beamer and technical support
Basic equipment such as flipchart, pin board and screen
Blocks and pens
1 coffee break with coffee, tea, fresh fruits and snack varying daily
3-course light lunch
2 conference drinks per guest
ab EUR 69

BUSINESS
State-of-the-art audiovisual system including beamer and technical support
Basic equipment such as flipchart, pin board and screen
Blocks and pens
2 coffee breaks with coffee, tea, fresh fruits and snacks varying daily
3-course light lunch
4 conference drinks per guest
ab EUR 79

ALL INCLUSIVE
Welcome drink with coffee, tea and fresh fruits for an active start into the day
2 coffee breaks with coffee, tea, fresh fruits, Danish pastries, sandwiches, also possible as all-day coffee station in the meeting room
Light 3-course lunch menu or buffet with main course at choice plus mineral water, juices, beer on tap and house wine unlimited
Unlimited drinks in the meeting room – mineral water and juices
Unlimited techniqual equipment all-inclusive-package: All available in-house audiovisual systems such as LCD video projectors, screens, flipcharts, pin boards, CD players, sound systems with microphones and much more are available at no extra charge
ab EUR 89
Incentives
GO BEYOND YOUR LIMITS AS A TEAM
---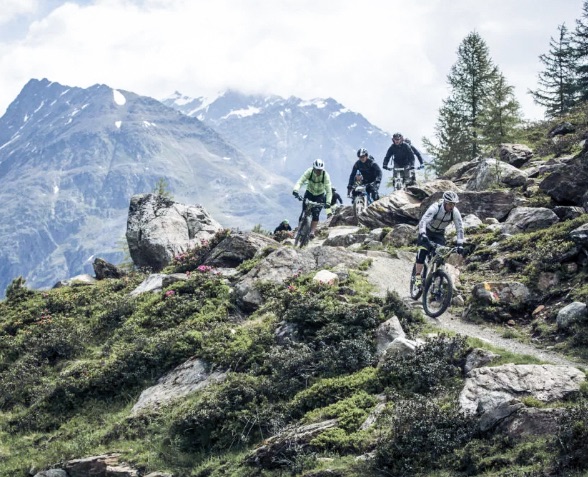 Supporting program
FIRST THE WORK, THEN THE ENJOYMENT
---
Encourage cohesion. Strengthen the "we" feeling and go past your limits: that is what you will experience with our incentive offers. Far removed from your everyday routine, you can take entirely new paths together and get to know and understand each other better.
Gain confidence crossing the gorge from high above. See a new side of your colleagues while you enjoy a snack at the mountain hut. Look over the canyon rim together and find your creative potential. In a good mood and highly motivated: in the Ötztal in Tyrol. Spend time bonding!
How do you keep conference members happy? Preferably with a
varied offer of incentive team building activities.
The aim: To show you and your team members the most beautiful places of the Ötztal region and at the same time strengthen the team spirit.
What about:
Winter olympic games
A snowshoe hike
An ice hockey tournament
A fun sport challenge
A rafting excursion … and a lot more!
We would love to arrange your individual Team Building program together with our fitness center team and agencies!

extravagant locations
MEMORABLE EVENTS
---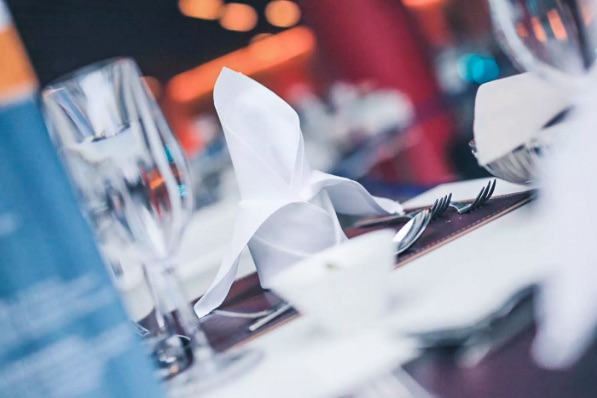 Classic
---
 For classic gala dinners you can use the banquet area of the AQUA DOME. From exquisite menus with appropriate decoration to a great entertainment programme: the AQUA DOME team will take care of your needs to make your event a great experience.
Welcome your guests with a glass of sparkling wine in our Bankett Foyers and enjoy different entertainment shows.
PHENOMENAL
---
The premium hotel spa turns into an exclusive party location on 1.000 m² at night. In the SPA 3000 guests celebrate at the hotspot of the AQUA DOME with a big dance floor, DJ and bar.
What about an elegant dinner in the hotel restaurant followed by a dessert buffet including a chocolate fountain in the unique atmosphere of the SPA 3000? The big terrace offers a spectacular view over the surrounding mountains!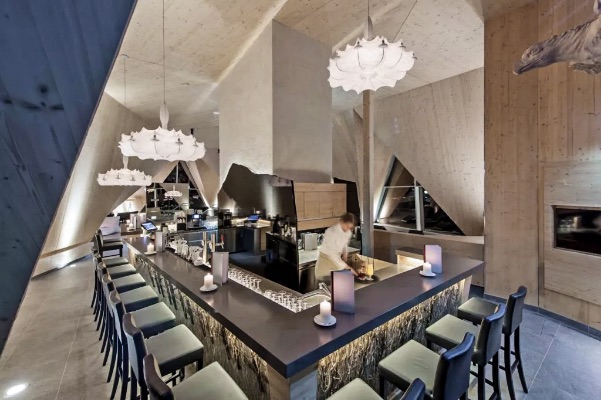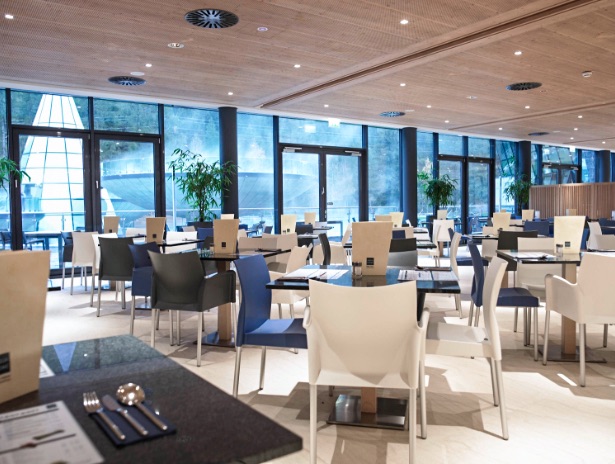 EXEPTIONALLY
---
BBQ, buffet, beach or theme party – the thermal spa restaurant Einkehr is the perfect location for casual events and parties for up to 200 people.
Enjoy an evening in the bar with unforgettable view over our bowl shaped pools. We are happy to send you some individual offer about our various buffets and supporting programs on request.
NOBLE
---
The thermal dome Ursprung transforms into an unforgettable dinner location with a gala seating right next to the water. An event that will be remembered.
The Highlight: The gateway above the indoor pools can be used as catwalk or podium. From galadinner to BBQ evening – at this location every event becomes unique!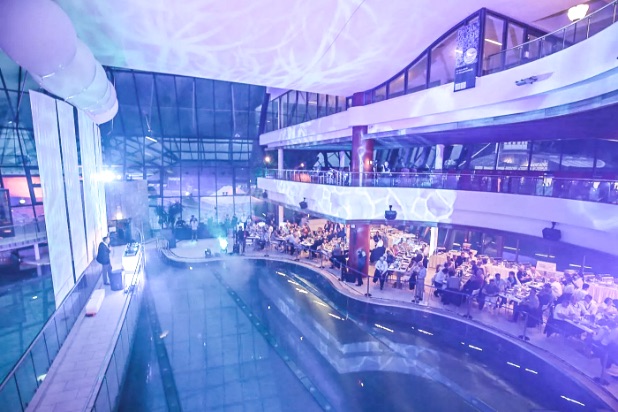 TRADITIONAL
---
Some characters of an alpine hut? When the snack consists of traditional bread, sausages and cheese. When the people are in good mood. And when home-made specialities come with tyrolean hospitality. If you want to experience this, we would love to recommend you the perfect cottage für your special evening.
Additionally we assist you with the selection of a suitable supporting program: From traditional musicians to a romantic sleigh ride through the valley – discover the Ötztal with us!