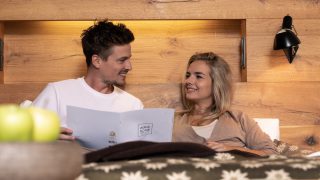 AQUA DOME Hotel rooms
Room
DOUBLE ROOMS
---

Auszeit
---
Live comfortably in 376 square feet with clean lines and restrained charm. With warm woods and finely designed accessories. A harmonious interplay of sought-after materials and natural color composition. Fresh fruit in the room. Minibar refilled daily with non-alcoholic drinks. Free internet access / WiFi guarantees uninterrupted communication. The balcony offers a view of the surrounding greenery.

Alpin
---
Stylish living environment with 355 square feet of space. The alpine flair flows discreetly through the entire space. The interior captivates with good taste. Chic, elegant, and sophisticatedly equipped: with fine oak wood and two exclusive armchairs. The black and white photography of the Ötztal Alps completes the mountain feel and stretches in full splendor in front of the panoramic window. In summer, you can relax and enjoy the balcony. Experience a special "time-out" in the mountains.
Room
SUITES
---

Freiraum
---
Forget your everyday cares! Our Junior suite receives you with stylish ambience and perfectly thought-out space concept. Discreet wood paneling flows pleasantly through the room. Warm earth tones capture the nature of the Ötztal mountains. Living and sleeping areas are visually separated from each other with a partially open fireplace. The highlight is the stylish settee in warm red tones. The generous double bed with alpine character guarantees a comfortable night's rest. You can relax in the expansive bathroom. Enjoy a carefree overnight stay.
BALCONY
TERRACE
LOUNGE
FIREPLACE

Wohntraum
---
Alpine luxury with open hearth fireplace: the panoramic suite with 968 square feet of space leaves no wish unanswered. Here a luxurious ambience with stylish taste meets cozy warmth. The inviting living room is elegantly separated from the bedroom with a sliding door. The generous double bed in alpine design promises the best sleeping comfort. Pure relaxation awaits you in the bathroom. The alpine panorama stretches magnificently past both rooms. Feel infinite wellness.
BALCONY
TERRACE
LOUNGE
LIVING QUARTERS
FIREPLACE
NATURAL LATEX MATTRESSES OF LUXURY M
Room
FAMILY ROOMS
---

Familienparadies
---
Just like at home. But even better. A comfortable bedroom for the parents and a separate bedroom for the kids brings sweet dreams for everyone. Two bathrooms let everyone take all the time they need. The sophisticated living room with large dining table and comfortable bench invite socializing. A separate play area provides great entertainment. Relax on the terrace in the summer. We hope you have a pleasant stay!
BALCONY
TERRACE
LOUNGE
LIVING QUARTERS
CONNECTING DOOR

Raumwunder
---
You can expect plenty of space in our generously sized "Raumwunder" family room. Stylishly furnished, with alpine flavor and modern comfort, it meets all requirements. Two double-bed rooms with connecting doors offer plenty of space for the whole family, with a total of 68 square feet. Two modern bathrooms make sure there are no bottlenecks and that everyone can relax.
BALCONY
TERRACE
LOUNGE
CONNECTING DOOR
Panoramic view
Half-board
Thermal bath
12 basins
Spa 3000
7 saunas
Activity programme
E-charging station
ROOM OVERVIEW
| | | | | | | |
| --- | --- | --- | --- | --- | --- | --- |
| | | | | | | |
| Auszeit Alpin double room | | | | | | |
| | | | | | | |
| | | | | | | |
| | | | | | | |
| | | | | | | |