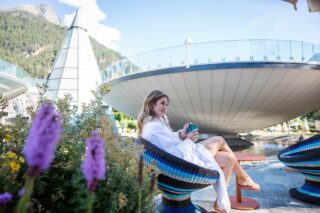 Spa offers
Spa offers
---
Enjoy pure relaxation with our exclusive thermal spa packages. Immerse yourself in a world of well-being and leave your everyday stress behind. With our variety of offers for wellness treatments, sauna visits and relaxing baths, you will experience a holistic break for body and soul.
INFLATION bonus weeks
Enjoy the exclusive inflation bonus for your thermal spa day in the famous AQUA DOME - Tirol Therme Längenfeld this autumn. Immerse yourself in the pleasantly warm Ötztal thermal spring water. Your autumn break in Tyrol, Austria awaits you.
Autumn in the VAMED Vitality World resorts is all about pure relaxation. For body, mind – and for your wallet. We invite you to dedicate a full day exclusively to your relaxation as part of our exclusive inflation bonus weeks. We give you a whopping 30% discount on your day of relaxation from Monday to Friday and between 15 September to 13 October! Single-day holiday CLASSIC. So, immerse yourself and leave the stress of your everyday life behind for a few soothing hours.

The inflation bonus weeks at a glance:
30% discount on your relaxing experience! Single-day holiday CLASSIC
For a day-stay from Monday to Friday
Valid from 15 September to 13 October 2023
Bookable from 14 August to 13 October 2023

Spa breakfast
EUR 16.00 per adult | EUR 12.00 per child up to 14 years of age
How about homemade jam, freshly squeezed orange juice and egg dishes? Start your spa day with a variety of hot and cold dishes and drinks and experience moments of true pleasure.
You are welcome both as a spa guest and as an à la carte guest!

Biking & swimming
EUR 68.00 per person
Fixed reservation for the e-bike including the 3-hour ticket, only on the day of validity and check-in only possible in the specified period.
First ride our e-bike and then enjoy a relaxing day at the thermal baths. Rent the e-bike between 09:00 and 11:00. You can ride the e-bike for up to 4 hours. After that, flexible entry is possible until 5:00 pm and you can spend 3 hours in the thermal baths after your bike tour. 

Day ticket – adults with sauna & fitness
EUR 61.00 per person
How about a unique bathing experience in the pools of the spa and pure relaxation in one of the numerous saunas? As a special highlight, you can also use the fitness centre free of charge.