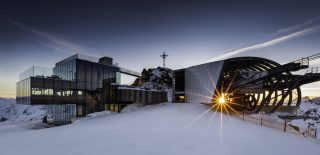 The agent on a secret mission in Sölden, Tyrol
ELEMENTS - A CINEMATIC JAMES BOND INSTALLATION
---

007 ELEMENTS is the title of the new James Bond exhibition. This cinematic installation, set up inside the Gaislachkogl mountain in Sölden, will open its doors this summer.
The name "007 ELEMENTS" reflects the visitors' journey through various galleries, all revolving around the trademark and classic James Bond film elements. Although this installation mainly focuses on Spectre and the scenes that were shot in Sölden, other chapters of overall 24 James Bond films are also included. Collaboratively, creative director Neal Callow (also art director for Casino Royale, Quantum of Solace, Skyfall and Spectre) and Tino Schaedler, Optimist Inc. design director and his team, created a highly comprehensive, interactive and educational James Bond experience world, where visitors can literally immerse themselves into the world of 007 with all their senses.
At 3050 meters above sea level, a double storey building of 1300 m2 is erected directly inside the mountain. The impressive structure blends in with the surrounding mountain-scape and only really becomes visible once entered via an underground tunnel. The two main rooms offer spectacular insights and views of Tyrol's mountains and valleys. By the perfect combination of state of the art technology and modest, contemporary architecture, 007 ELEMENTS promises a captivating experience in towering heights. The installation amidst pristine nature is accentuated by a dramatic, cinematic sound-setting.
The installation concept was designed and developed by creative director and James Bond art director, Neal Callow in collaboration with the Optimist Inc. chief designer, Tino Schaedler and his team.
* The entrance fee does not include the ascent by Gaislachkogl cable way I + II
** A valid ticket is necessary for ascent by Gaislachkogl cable way I + II. For all guests who do not hold a valid cable way ticket (e.g. ski pass, Ötztal Card), a combined ticket is offered, including the ascent by Gaislachkogl cable way I + II, as well as admission to 007 Elements.
Age groups for discounts: Children: 2008-2014 / Teenagers: 2003-2007
Group rates: For groups as from 20 persons. All tickets must be collected and paid for together.
Ticket offices:
Gaislachkogl cable way valley terminal
Giggijoch cable way valley terminal
Gaislachkogl cable way half-way terminal
Tickets are not sold at the entrance of the top terminal!

Daily between 09.00am and 4.30pm (Mondays off)
Please note that the ascent on both sections of the Gaislachkogl cable way from the valley to the top terminal takes about 30 min..
The ascent to the top terminal should be planned such, that visitors are at the entrance in time for the booked timeslot.
With a valid entrance ticket, visitors can access the entrance area (plaza and lobby) 30 min. before the booked timeslot.