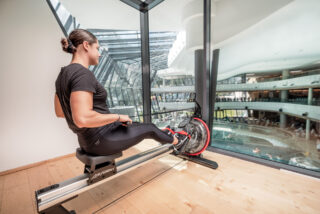 AQUA DOME fitness studio in Längenfeld
STRONG LIKE A MOUNTAIN, BALANCED LIKE WATER
MODERN TRAINING AT THE FITNESS CENTRE IN THE ÖTZTAL VALLEY
Access to the AQUA DOME is free of charge for hotel guests, the surcharge for thermal spa guests is EUR 15.
Single admission (cardio & weights area, incl. aerobics) EUR 20.
Children under the age of 15 are not admitted.
Längenfeld Fitness
Fitness - Become a member
---
Fitness checks, strength and cardio training, individual personal training and performance diagnostics as well as our wide range of courses ensure optimal fitness and healthy muscle.
All memberships include a fitness check, a personalized training plan and participation in fitness courses.
Fitness, Thermal Spa & Sauna: our prices
| | | | | |
| --- | --- | --- | --- | --- |
| | | | | |
| | | | | |
| | | | | |
| | | | | |
| 10er - Pass Fitness + Courses | | | | |
| | | | | |
PERSONAL TRAINING
MY INDIVIDUAL WORKOUT
---
You find it boring to exercise alone? Our personal trainers motivate you to work out. and achieve individual training success. Set a personal training goal together - and achieve it with a tailor-made training schedule! So that you don't run out of breath halfway through.
Our highly qualified coaches specialise in different training focuses: From strength to endurance workouts to private yoga sessions. By the way: personal training is a great way to get started and for in-between. For readjustment. So, get started today in the fitness centre of the AQUA DOME in Längenfeld Tyrol!

PODCAST "LIFT YOUR HEALTH"
---
Together with invited guests, our fitness team addresses various health-related topics, such as sports in everyday life, mental health or regeneration in sports.  Every month, you can embark on a new journey of health and discover a new side of your body and soul.

FITNESS EQUIPMENT AND DIAGNOSTIC PROCEDURES
TRAINING SUCCESS THROUGH TOP EQUIPMENT
---
CYBEX
With the Cybex concept, the Thermal Resort of the Alps is once again setting new standards! On a training area of approx. 500 m², strength, endurance and analysis equipment of the premium brand CYBEX is available to our guests.
Cybex stands for decades of research, more than 90 patents in the medical-technical field and the best training experiences on six continents. The special feature of this equipment is the simulation of natural muscle movements, which makes exercising much healthier and more effective.
Cybex Eagle Series
Leg Press
Chest Press
Olympic Squat Rack
Olympic Bench Press
Leg Curl
Leg Extension
Hip Abduction/Adduction
Assist Dip/Chin
Abdominal Board
Back Extension
Endurance area
5 Cybex treadmills
4 Arc Trainer Cybex (Stepper)
6 Bikes Cybex
ICG 7 Indoor Cycling Bikes
2 Rowing Ergometers
Weight area
Intensic back circuit
Easy Torque
Base frame with up to 8 sling trainers
Dumbbell Set 1 - 50 kg
Kettlebell Set
Intensic
An innovation in the gym is the patented "itensic back circuit" - a set of fitness equipment specially designed for back therapy. Guests with back problems - one of the major diseases of civilisation - find effective and fast help here.
Itensic applies techniques from manual therapy to sports equipment. The symbiosis of physiotherapeutic knowledge and workout expertise makes this equipment line unique. The effect is noticeable for users of all levels.
This equipment mobilises and strengthens the deep muscles of the lumbar spine in a targeted manner, without the risk of injury. The kinetic energy reaches - unhindered by compensatory counter-movements - exactly those points, where an effect is desired.
The "back circuit" releases tension and significantly alleviates pain in the lower back.
The fitness team is always available for a personal consultation.
EasyTorque
EasyTorque is a method for diagnosing muscle strength. By measuring the strength of all important muscle groups, we can identify weaknesses and strengths of the musculoskeletal system.
We assess the success of training and therapy and help to find "muscular imbalances" - possible causes of back and joint pain.
With Easy Torque, we measure:
knee extension and flexion
elbow extension and flexion
trunk extension and flexion
butterfly and butterfly reverse
hip adductors and abductors
lateral flexion
OVERALL CONCEPT AND COURSE PROGRAMME
TOP FIT IN LÄNGENFELD
---
Today's fitness professionals know: More does not necessarily mean more benefits. Only balance ensures lasting success. Feeling strong like a mountain and balanced like water - loaded with mental power! AQUA DOME Fitness and its qualified fitness trainers help to achieve this ideal state. With a programme that encourages the interplay of tension and relaxation. And with the state-of-the-art course programme that is hard to beat in terms of variety and diversification. Indoors and outdoors.
Top equipment for indoor strength and cardio workouts. Plus, very effective "HIIT" Core Power and other excellent courses. You can also exercise outdoors, for example, do trail running or a power walk.  Personal training, fitness checks and diagnostic tools help to find the dose right.
In addition, there are "spots of silence" with all kinds of yoga offers, with mental & meditation. Outdoors, while forest bathing or in the thermal waters during a water-sensing session. The perfect places for mental relaxation. Because, here at AQUA DOME Fitness, the body and the mind are one.
Whether summer or winter, indoors or outdoors: the largest thermal resort in the Alps offers a varied programme for wellness holidaymakers and professional athletes. Those who prefer adventure in the Tyrolean mountains, can look forward to our outdoor activities - whether in hot summer temperatures or when the snow crunches under your feet: we offer guided tours for every skill level! Cheers to the mountaineers.
Fitness checks, weights and cardio workouts, individual personal training and performance analyses, as well as our diverse range of courses ensure optimal fitness and healthy muscle building. Our qualified fitness instructors at AQUA DOME Längenfeld professionally guide you through your fitness and exercise programme. Our multifaceted range of courses offers an interesting combination of exertion and relaxation: From indoor cycling, sling training, aerobics, jumping fitness to aqua fit, water sensing and yoga, there are hardly any limits to your needs!

Thermal baths & fitness studio
fit4life
Insurance program
Merkur ego4you

Prevention and training for sports enthusiasts: This is how exercise is really fun!
Now with the Merkur preventive program ego4you fitness 6 months training incl. fit check.
ego4you is part of a Merkur health insurance product and cannot be booked separately.
NUTRITION AND SPORT: THE TOP DUO
---

Especially important for athletes: Our trained nutrition coaches have the necessary tips and tricks to boost fitness through nutrition. Our natural food supplements provide a valuable "kick".
At the AQUA DOME, we rely on SAINT CHARLES CAPSULES. They were developed as natural food supplements by the Ehrmann pharmacist family over many years. The 100% vegan capsule shells contain high-quality essences of the most natural kind.  Want to improve your performance? Or support your cardiovascular system or the joints? Or need a mental booster? Our nutrition coaches will be happy to advise you!
ACTIVATING CONFERENCE AT THE AQUA DOME
MEET & MOVE
---
During a conference, it can easily happen that participants fall into an energy slump. Too little air, too little movement. This can impair concentration and performance. To avoid this, we have developed offers together with our fitness trainers that are specially tailored to the needs of your conference participants. Targeted exercises quickly get everyone (back) on their feet.
For detailed information on this offer, please feel free to contact us:
Tel.: +43 5253 6400 6100

60 min

90 min

EUR 75.00

EUR 110.00

Mobility & strength analysis

Personal Training & Forest Sensing
For detailed information about our offers please contact us: +43 5253 6400 6100

Markus Erlacher
Fitnessmanager
Being active, enjoying nature and feeling free - this is what Markus lives and wants to pass on. He loves to share his enthusiasm and expertise for sports and a healthy lifestyle. In his function as fitness manager at the AQUA DOME, he is there to help you with all your concerns. Coming from Carinthia, the mountains are his home. Markus gained international experience as a fitness manager on the Queen Elizabeth cruise ship. He also worked as a fitness manager in an international premium group in Bad Homburg. Together with his team, he is looking forward to your visit at our studio and courses!

Eva Graf
Fitness Instructor
Eva has completed her advanced training to become a certified fitness trainer in 2015 and has not stopped learning in this field since then. The Styrian successfully put her discipline and fitness to the test in a fitness competition in 2018. Eva attaches great importance to the correct execution of exercises and motivates every fitness class with her positive attitude. Besides her active power sessions, her heart also beats for nature and a mindful lifestyle. For the 27-year-old, there is no better way to start the day than with meditation and an energising yoga flow. Eva is a certified yoga teacher (200 hours) and offers our yoga courses with great dedication and passion.

Dr. Isabell Weninger
Fitness Instructor
Isabell has always been very sporty and therefore decided to study sports science with a focus on prevention and rehabilitation. After her studies, she spent several years mainly working on performance measurements and training schedules for runners and cyclists. The combination of her medical and sports training, coupled with her experience, gives her a good foundation to help our guests achieve greater performance and a higher quality of life. Isabell is a certified Pilates instructor and shares her knowledge in the courses she offers.

Desiree Schöpf
Fitness Instructor
Desiree always gives 110%. With her bundled energy, she makes all guests sweat. Especially in the power classes, she gives her utmost. She has her roots in the Ötztal valley and attended a home economics school with a tourism branch in Imst. During her compulsory internship, she had her first encounter with the AQUA DOME. It was also during this internship that she also discovered her passion for offering courses and working with amateur athletes, since she had been active in sports before. Volleyball and strength training are among her hobbies. She loves the challenge of weights.  Nutrition is one of the most important building blocks in her life. With her positive and motivating nature, Desiree gets even the laziest couch potatoes to exercise!

Susanne Rogl-Bedelov
Fitness Instructor
Susi is a certified wellness and fitness trainer, as well as a hiking guide. She loves being out and about in the mountains and sport is her great passion.  Her special favourites are mountain running and beach volleyball. The various trainings she has completed include: group trainer, indoor cycling, athletic trainer, personal coaching, jumping fitness etc., which are also her duties in our fitness studio. Walking tours with hotel guests is another part of her portfolio. She loves to share her expertise and motivate people to pursue a healthier lifestyle.

Sophia Kuen
Fitness Instructor
Sophia, the new member of our team, started her 3-year apprenticeship with us at the AQUA DOME in 2021. She feels very much at home in the team and enjoys her work thoroughly. Coming from Längenfeld, she was a sports enthusiast from an early age: tennis, football, climbing and skiing are among her hobbies. For her, it was always clear that sport should be an integral part of her life and future career choice. With her apprenticeship with us, she found exactly the profession she was looking for. Now, the 16-year-old is ready to take off with our team.

Susanna Löwe
Fitness Instructor
Susanna is passionate about sport. She grew up with figure skating as a competitive sport and now devotes herself to endurance sports such as jogging, trail running and mountain biking in summer and cross-country skiing and ski touring in winter. In her free time, she loves outdoor activities in nature. She wants to share her enthusiasm and joy for sports with others, which is why she decided to study sports science. Currently, she is completing her Master's degree in Innsbruck and supports the fitness team part-time with her energy and know-how.

Kerstin Riml
Fitness Instructor
Kerstin supports our fitness team with courses such as indoor cycling, full body workout, HIIT and core workout. She specialises in creating training plans - with the aim of losing weight or building muscle. The mother of 2 runs a bed and breakfast in Sölden with her husband. She loves working with people and has therefore completed several training courses in group fitness (Bokwa, Piloxing, indoor cycling). Besides her passion for cycling, she is an enthusiastic weight athlete and devotes a lot of time to healthy nutrition. You can also find her on many via ferratas and huts in the Ötztal outback.

Judith Oberlader
Fitness Instructor
Judith is a certified mental coach, a certified Advanced Prana Flow Vinyasa Yoga teacher (300 hours), a certified mindfulness teacher & a certified health and fitness trainer. Her focus is mental health and prevention. As long as she can remember, she has been interested in awareness, contentment and inner balance. This is exactly what she has specialised in, and therefore it is a great pleasure for her to accompany her clients on their way to greater well-being. Her passion is to help people broaden their horizons and find a mindful way of living.