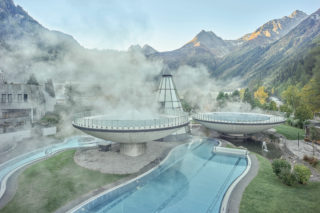 WELLNESS IN THE ÖTZTAL
RELAXATION IN THE MIDDLE OF NATURE
---
Whether it's summer or winter, whether you're seeking activity or relaxation, the Ötztal valley has something ideal for every visitor. Mountain lovers can revel in the fresh air, majestic mountains, and breathtaking views that the Ötztal valley offers.
This beloved holiday region is a true haven for families, drawing thousands of visitors to its picturesque mountain landscapes every year. Enchanting destinations like Sölden, Hochgurgl, and Längenfeld are perfect for high-altitude mountain treks, thrilling ski adventures, or simply unwinding. It's a mix of exhilaration and relaxation, tailored to your desires. Beyond the wellness experiences in the Ötztal valley, guests are particularly captivated by the diverse range of leisure activities that cater to all tastes.
SUMMER IN THE ÖTZTAL
WELLNESS DEALS AND ACTIVE PROGRAMS
When one hears "AQUA DOME," skiing or the myriad wellness offerings of the Ötztal immediately comes to mind. But it's not just about escaping the daily grind in winter; summer offers its own retreat! Beyond winter sports, the Ötztal's landscape is equally captivating during the green months. The region is crisscrossed with diverse hiking, mountain, and climbing trails. As part of the Active Outdoor Program, the AQUA DOME offers its guests many opportunities to explore the Ötztal.
HIKING & WELLNESS IN AUSTRIA
WELLNESS RETREATS VS. ADRENALINE ADVENTURES
The crisp air in the Ötztal valley offers a refreshing yet gentle mountain climate, beneficial for one's well-being. Whether you're an experienced trekker or a novice, the valley caters to all: Over 1,300 kilometers of marked trails span a range of difficulties, from leisurely walks to challenging hikes. Along the way, numerous alpine meadows and guesthouses beckon for longer excursions.
For those seeking a refreshing escape on warm summer days, Lake Piburg awaits. Nestled within a scenic forested setting, this bathing lake stands as one of the Ötztal valley's natural jewels.


BIKING IN TYROL
GUARANTEE FOR UNLIMITED ACTION FUN
Summer in the Ötztal isn't just for relaxation; it's a haven for thrill-seekers too. Beyond the wellness offerings, the valley's diverse range of outdoor activities truly defines its essence: a unique blend of verdant meadows, thermal springs, and adrenaline-packed adventures.
Cyclists, in particular, treasure the Ötztal for its diverse trails (in German). With 42 official routes available, there's something to suit every skill level and preference. Whether you're in the mood for a moderate scenic ride, eager to explore root-laden forest trails, or up for a challenging ascent reaching altitudes of 2,000 meters, the choice is yours
Active Vacation in Austria
OUTDOOR SPORTS IN TYROL
From kayaking, rafting, and canyoning to climbing, paragliding, and motorcycling, the array of adventure sports is vast, drawing outdoor enthusiasts from around the globe. And if that doesn't quench your thirst for adventure, AREA 47 awaits. With over 35 activities spanning water, land, and air, it's the perfect place to unleash your energy.

Winter holidays in Austria
WELLNESS OFFERS AND WINTER SPORTS
The Ötztal has undoubtedly become a hotspot for winter holidays and winter sports. The valley is a glacier area and also surrounded by 250 three-thousand-meter peaks. Nestled in the energising surrounding, the thermal-spa landscape of the AQUA DOME is located at 1200 metres above sea level and invites you to linger and unwind. Health and wellness in the Ötztal valley are our top priority. Let the idyllic winter wonderland soothe you while you enjoy the beneficial effects of our outdoor thermal baths, steam baths, saunas, massages or the health area.
Ski vacation in Austria
SÖLDEN SKI AREA: READY, SET, SKI!
While relaxation is wonderful, there's nothing like getting the body in motion. Beyond the diverse fitness programs at our wellness hotel, we invite you to take to the slopes. Nestled at the base of Austria's second-highest mountain, the Wildspitze, winter sports enthusiasts will discover perfect conditions for skiing and snowboarding. Our ski areas offer a range of slopes with varying levels of difficulty.


SPA HOTEL IN TIROL
FROM WINTER WONDERLAND TO WARM SAUNA
Experience the beauty of snow-covered landscapes beyond the ski slopes, whether it's on a horse-drawn sleigh ride or a moonlit snowshoe trek. From winter hikes and curling to ski guiding and exhilarating toboggan rides, there's something for everyone. Whether you're seeking thrills on the slopes or a peaceful stroll, returning to the AQUA DOME after a day of adventure will show you the true meaning of wellness in the Ötztal valley.
TYROLEAN CUISINE
DELICACIES FROM TYROL
Of course, you can expect some culinary delights here, such as the "Tiroler Kaspressknödel," which are dumplings made with gray or mountain cheese, typically served with a hearty soup or salad. Another favorite is the "Marende," a Tyrolean snack platter featuring cheese, bacon, and Kaminwurzen sausages, often accompanied by cold roast pork, horseradish, and rustic bread. And who could forget the ever-popular "Kasspatzln"? For those with a sweet tooth, the "Kiachl" is a must-try: these are yeast dough pastries that, once golden brown, are sprinkled with powdered sugar and enjoyed with cranberry jam. In the spirit of Tyrolean hospitality, "Enjoy your meal!" or as they say, "an Guatn."


HISTORY
ÖTZTAL: INTERESTING FACTS AND UNIQUE FEATURES
Did you know that one of Tyrol's most picturesque side valleys gets its name from its main town, Ötz? The name "Ötz" or sometimes "Etz" traces back to the Middle High German word "ëzzen," which means "to eat," and is essentially a nod to "pasture" or "grazing land."
The valley also made headlines with the discovery of "Ötzi," an Ice Age mummy from around 3300 B.C., unearthed from the icy embrace of the Ötztal Alps in 1991.
Another gem from the Ötztal is its unique dialect, recognized as a UNESCO World Heritage in 2010, with a rich tradition spanning nearly 900 years. When visiting, you'll be warmly greeted with a "Grias enk."